Start the New Year dancing…
Me from BloodhoundBlog:
This is my all-time favorite New Year's movie (Netflix link):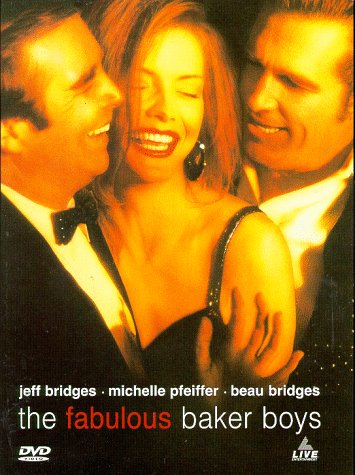 More than you know
More than you know
Man of my heart, I love you so
Lately I find
You're on my mind
More than you know

Whether you're right
Whether you're wrong
Man of my heart, I'll string along
You need me so
More than you'll ever know
That's Michelle Pfeiffer's opening song from The Fabulous Baker Boys, (here is a clip of her singing it) and it rapturously encapsulates the very best of four distinct art forms. It's gripping film-making, with great performances by all three principal players, Beau Bridges, Jeff Bridges and Pfeiffer. The piano, portrayed by Jeff Bridges, and and the song, actually sung by Pfeiffer, are very effective together. But the song itself exhibits in a very simple fashion the essence of lyrical song-writing: From the first verse to the second we change from 'I need you' to 'you need me.' And that in turn, like a page torn from Sophocles himself, provides the argument for the entire drama. This is what integrity means in art: Every different thing is the same one thing.
And the whole film is done brilliantly. It's easy to get lost in Pfeiffer's sultry performance, but I think Jeff Bridges' laconic, sardonic, taciturn embodiment of Jack Baker is an excellent exploration of the practical consequences of self-loathing. The story is dark, almost seedy, but the plot is redemption, which is my favorite yarn. And despite a few short lapses into cheesiness, writer/director Steve Kloves delivers a gritty and credible resolution. There are no villains, nor any genuine heroes, but everyone is a better person by the time the credits roll. I score that a victory for the forces of the light.
The Fabulous Baker Boys is particularly appropriate for New Year's Eve, because the timeline of the film runs from Christmas through New Year's. Kloves uses this to the story's huge advantage, which matters a lot to me. In particular, the big romantic blow-off of the movie occurs on New Year's Eve. It starts when Michelle Pfeiffer's Susie Diamond character sings a very provocative version of 'Makin' Whoopee' to Jack Baker — (here is is a clip of that) — free for once to play the piano as he wishes. The night ends with what is possibly the sexiest seduction ever committed to film.
With this on the DVD player and a couple of flutes of champagne, you just might get lucky. How do I know? "Intuition."