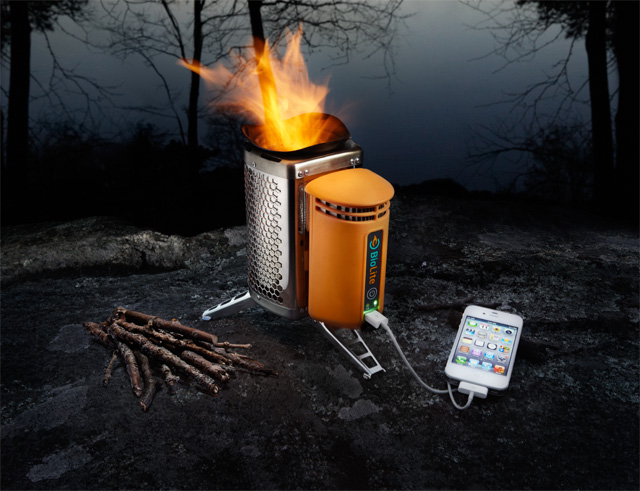 By way Instapundit, check out this item from The Daily Beast:

The image of groups of displaced refugees huddled around a contained fire during a blackout or after a major storm is certainly a familiar one. But charging their iPhones at the same time?
The BioLite CampStove is two, two, two energy sources in one, a small camp stove with a low-voltage electricity generator.

The BioLite CampStove is about the size of a coffee urn. Developed as the hot new toy for hikers, the stove houses a small fire that burns from hunter-gatherer fuel sources—dry twigs, pinecones—and, in addition to warmth, generates electricity for users to charge mobile devices. You can cook on it, too. But with hundreds of thousands of people without power for days following the wrath of Sandy, and many in the New York region still in the dark, a serendipitous new function of the CampStove—disaster relief—has come to light.

[….]

The CampStove has only been on the market since June, and has already sold tens of thousands of units. But this is the first time its application as a disaster relief tool has been tested.
There's more to come from the BioLite folks:

"We're seeing parallels from this experience to the challenges of international development, where we must figure out how to set up proper distribution channels and education programs."

It's an apt comparison, as BioLite prepares a pilot program in early 2013 that will distribute another product, the HomeStove, to the developing world, including parts of India, Uganda, and Guatemala. The idea behind the HomeStove is that nearly 3 billion people worldwide cook on smoky open fires, leading to premature deaths from lung damage and burns and contributing to climate change. Almost 1.3 billion of these people lack access to electricity. The HomeStove, which is much larger than the CampStove but operates in a similar manner, cuts down on 95 percent of smoke emissions—while simultaneously generating electricity.
Visit the BioLite web site for more information. This is SplendorTech aborning.